Saturday, November 22
Sorry another 2 week catch up from me this week - last week the kids had a bug so I didn't get around to posting, low and behold myself and the kids have a different bug this weekend meaning Emmy had Friday off School. I am poorly and need my bed but the though of inflicting a 3 week update on you next week was enough to force me online - I'll keep it brief so be gentle on a poorly me.
Week 46
Day 313
Experimenting with Emmy's hair today - we have plaited hearts. She loved it so much she had to sleep with them in.
Day 314
Smiles from my little man - these have been rare while he was poorly
Day 315
Very annoyed with this delivery - these were presents for birthday's however not only were they 3 weeks late the boxes had been ripped up to get into the packing bag. I complained and received a full refund.
Day 316
Emmy seems to have claimed Olwyn for herself - this
Oobicoo doll
has come to live with us and is already modelling my favourite babygrow of Emmy's from when she was small. (Review to follow)
Day 317
A little chocolate delivery - OK I'm lying a HUGE delivery - we will be creating Lindt Christmas Traditions
Day 318
We enjoyed Pizza for tea - well we had to with the arrival of this
Chicago Town pizza cutter - the slice saber
. A novelty gadget for cutting pizza but actually quite fun and made the kids both giggle loads! This will be used to cut all Pizza's just for the fun value, although it is quite sharp so Emmy was cross couldn't use without help.
Day 319
Emmy had her Gold Star Assembly today at school - we were invited to watch and welled up with pride seeing her receive a concentration award, although it was rather amusing as she wasn't concentrating and didn't hear her name called to collect her award - typical Emmy!
Week 47
Day 320
Poorly children - Harry had a bed on the sofa while Emmy created a bed for herself on the dogs bed, hauled up watching TV
Day 321
My helper making dinner - lining up the potatoes and counting them
Day 322
Inset day - Bike riding in a party dress and Doc Martens of course!
Day 323
Beautiful School Photo - I really love this one
Day 324
We are loving this
Philips SoftPals Disney Night Light
- Harry has been taking it to bed with him and cuddling it. He can turn it on and off himself too which is a bonus especially I he wakes in the night and we've forgotten to turn it on.
Day 325
Emmy has been asking for well over a year for this Dog and I thought the phase would pass - it didn't so when I saw this on offer on
Amazon
recently I had to buy it for either Christmas or her Birthday (I'll decide when I start wrapping her presents)
Day 326
Today all feeling under the weather still, cheered ourselves up by making our first Yule log

Hello there, welcome to our new and VERY seasonal Linky!
Let us introduce ourselves we are Clare from
Emmy's Mummy
and Karen from
Adventures of a Monkeyfooted Mummy
and WE LOVE CHRISTMAS. The planning and decoration the preparation and events and we really love
Elf on the Shelf
. Now if you haven't heard of this tradition that's taking the world by storm ( have you been living under a rock) let us enlighten you. Traditionally 'Buddy' is a Elf sent by Santa from the North Pole to watch over your children and report back to the big fella in Red. This idea originated from a book but while the house is sleeping he gets into all sorts of mischief. Now depending on your level of dedication this could involve, making breakfast and cakes or dancing with the other toys.
So we would like to know what your elf gets up to? We would love for you link up any Elf related posts below and be sure to visit a few of the other posts and share a little linky love. Don't forget to leave a comment for your hosts
Clare
and
Karen
.
Now this first week we would like to get to know your Elf a little better so let us know their name, are they naughty or nice and what plans do you have for your elf for December?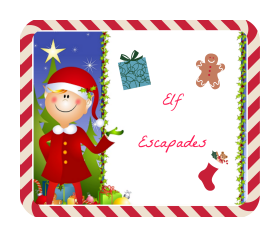 This year we are joining in with the hype, I loved seeing the excitement all over Facebook of the Christmas tradition Elf on the Shelf.
Before now I thought the children were too young however this year I could resist no longer and purchased our Elf while shopping in Sainsbury's along with his own special book.
He isn't the traditional Elf on the Shelf but that is the joy of this - it doesn't have to be. It can be any Elf you like and you can be as inventive as you like or just move him/her around the room moving things and bringing treats.
I've talked to Emmy about a visitor coming to stay, how she isn't to touch him and how he is watching and reporting back to Santa - she isn't quite sure about that last part as it may mean she needs to behave more! Time will tell if they embrace this but we will try.
So meet Eddie
Eddie is a nice Elf, or so he has told me - whether he remains that way we will soon see.
He has a few treats planned for the children, and has been practicing his handwriting to bring them special notes too.
He will be arriving on the 1st and we are busy preparing for our fun adventures, starting with his grand entrance through his own special doorway - which will live on the kitchen side as opposed to on the ground as I already know Harry will not leave it alone.
Eddie comes with his own Magical Moments Record Book which I will be bringing out this week to read with the children - Eddie will stay hidden until December. In our book we have pages to fill in together so as to learn more about Eddie - the children can help me to decide on things he may like such as his favourite foods.
Parts of this book can only be completed once Eddie arrives so this book will come out throughout December and be filled in as we proceed throughout the month.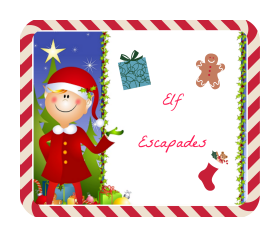 Friday, November 21
I was tagged recently by the lovely Jaime -
The Olivers Madhouse
to take part in a Meme … She has given me some questions to answer which are a little strange but hey ho - here I go:
If you could travel back in time, which person from history would you like to meet and why?I would have loved to have spent an afternoon with Rik Mayall - can you imagine not spending the whole afternoon rolling around laughing and cracking jokes?

If you could be any animal, what would it be?Dolphin - they are my favourite animal and I would be a better swimmer than I am now!

What is the most unusual thing that we could find in your handbag?Gosh, everything?
Currently I have 2 kids magazines and crayons, a portable mobile charger, 2 Iggle Piggles, A fruit shoot, a toy phone and a toy camera - that's on top of essentials such as Nappy and wipes and of course my purse and a hairbrush!

What's the worst food anyone could ever serve you at a dinner party?I am actually one of these people who eats absolutely EVERYTHING so there isn't something I dislike - salad I suppose as it's rather boring

What is your earliest childhood memory?That would be living in my first childhood home and my Nan and Grandad coming over with treats for me and my brother Milkyway's and being aloud more than one - I'm sure that happened and I've not made it up - although it would have been a very long time ago

If you were an athlete, what sport would you excel at?Well it sure wouldn't be hurdles!
I was always pretty good at the Javelin at school - when I say pretty good I mean it went in the right direction at least, that's a good start right?

If you were any Superhero, who would you be?Catwoman - No reason why just why not?