It is the season of goodwill – Christmas time brings out the joy and happiness in people more than other holidays seem to do.  Whether that is the time off of work or the joy which spending time with families bring, the excitement of Santa or the enjoyment of seeing the children's faces light up with the joy which is Christmas – they seem to love every little thing about the season from the tree, decorations and lights to the writing to Santa and leaving mince pies and that's before the presents even appear.
It seems to be catching and Wayfair, a company I have purchased many beautiful homeware items from previously have set up a Blog it Forward campaign for bloggers in which for every post written about goodwill gestures this month they will donate £50 to Habitat for Humanity.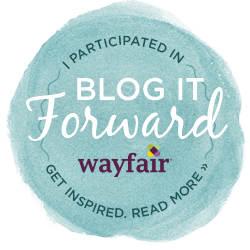 I love this challenge and am joining in; however I actually do all or many of the below actions on a regular basis and not just because it is Christmas or for the purpose of this post but blogging them here will allow for a much needed charity to gain more very needed funds.  These little things I do not for thanks or for the purpose of blogging about them (so this is rather alien for me as I tend to avoid writing about them) but for bringing a smile to someone's face and to give others things we tend to take for granted.
In no particular order, this month I have been bringing smiles by:
Making extra homemade fudge when making the teachers gifts and giving these out to my neighbours.

Nominated the lovely lady in my local shop to receive a prize for her warm and loving nature.

Helped a lady tend to her sons grave when I was visiting my mil's, gave her a cuddle and let her talk about him and her Christmas plans and just listened while she spoke and cried.  We exchanged numbers and I told her I would water and tend to it whenever I visited while she was away and in general.

Gave my neighbour a Christmas hamper I had received as a gift from a PR but which contained things I wouldn't eat or drink.  I didn't want it to go to waste.

Gave my money off coupons to the man behind me in Sainsbury's as it's not my local store and I by the time I visited again they may have run out.

Stuck my car parking ticket back on the ticket machine for others to use when I had a few hours left on it.

Donated toys to a charity auction.

Added food weekly to the food bank boxes in my local Tesco – only a few tins or packets of rice/pasta but anything can help.

Donated toys to the charity shop which the children have outgrown or not played with for a while.

Sent random surprise gifts in the post to friends who are wonderful and deserving of a little just because gift.
These are only little acts of kindness but if everyone did just a few little things…..imagine the joy you could all bring slowly but surely!
I was nominated to #Blogitforward by the lovely Stevie –
A Cornish Mum 
I nominate: