PLAYMOBIL is a toy range both of my children love, and they were very pleased to find out that we would be working alongside this fantastic brand as Ambassadors for the 2nd year now.  PLAYMOBIL, a top manufacturer within preschool is a brand I grew up playing with and I love the fact my children like it just as much as I did, they find it amusing knowing that I had toys like this when I was younger – sadly I don't have those toys to show them.
Harry was sent the Fire chiefs car with lights and sounds recently and over the moon.  He loves Firefighters currently and is forever dressing as Fireman Sam and pretending to put out fires with his hose.
This toy comes with a special edition sticker set to help celebrate 150 years of the London Fire Brigade.
Setting up this toy was rather simple and just requires following the images in the instruction booklet, the instructions are actually double sided as this can be added together with another set to be turned into a remote control car (unfortunately Harry saw this and has been bugging me since to buy him a remote control car – one for his birthday list next month I think).
You will need to add 1 x AAA battery to the lights unit which fixes to the top of the fire car, you need to unscrew a tiny screw to add the battery which isn't included.
I had slight difficulty in adding the tyres to the wheels as they are tight, if not fitted correctly the wheels will not turn.  I found using a teaspoon to lever them into place was easier than trying to use my fingers and struggling.
This set comes with a fire fighter, stop sign and traffic cones, fireman's helmet, walkie talkie, megaphone, fire extinguisher and a storage box to keep all the fire fighting equipment neatly in the fire car.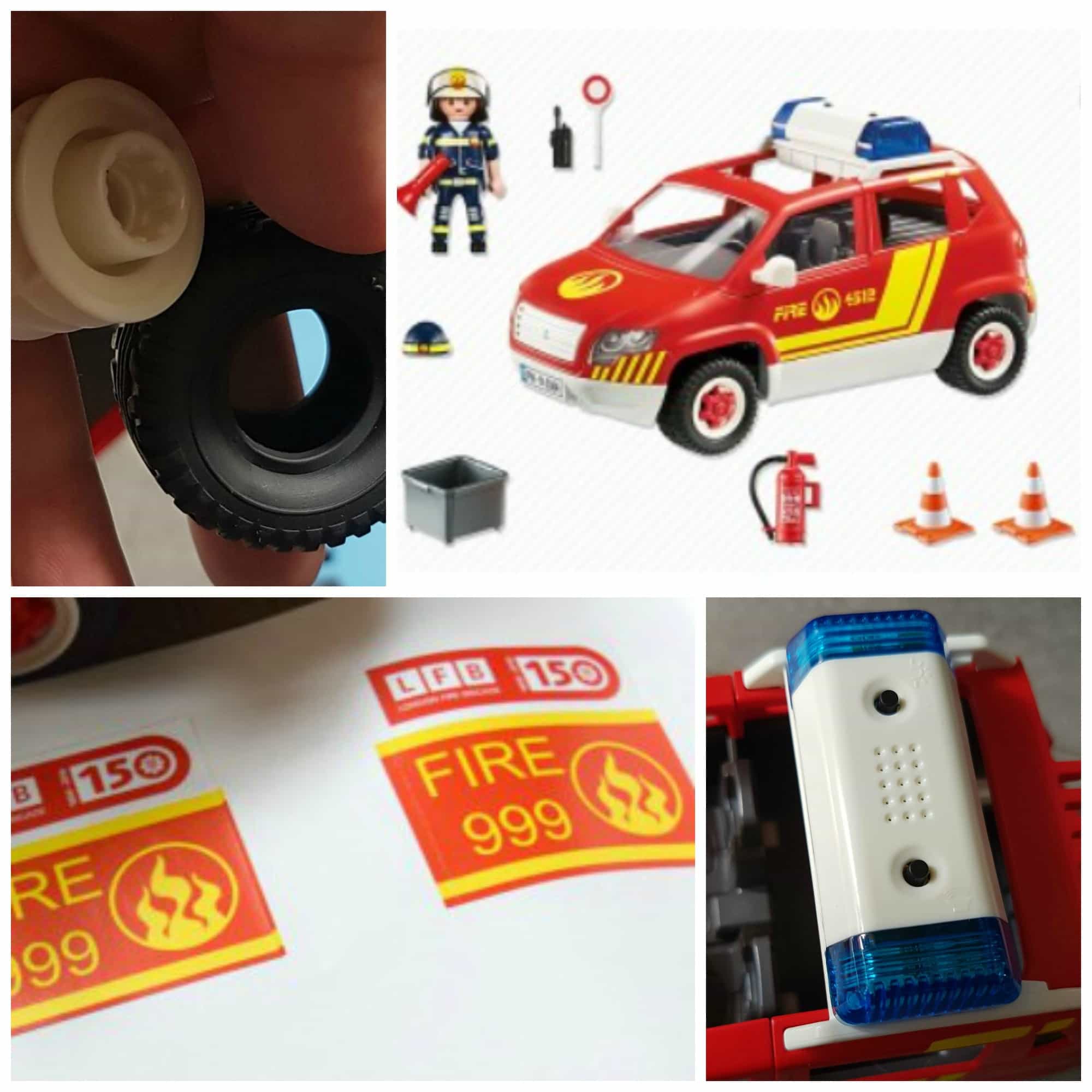 Harry loves this Fire car and especially loves the sirens and lights – although if these become too much for you as a parent you can remove the battery but it isn't too loud.
This toy is priced at £18.99
Disclaimer: We are working alongside PLAYMOBIL as Ambassadors