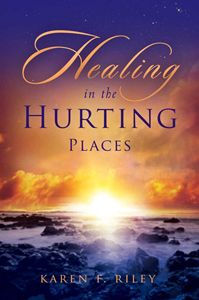 Welcome to my stop of Healing in the Hurting Places book tour presented by Charisma Media
Interview with the Author Karen F. Riley
1.

Where are you from?

I currently live in New Egypt, NJ, but I was born and bred in Brooklyn, NY.
There is a sign by the bridge in Brooklyn that says that a fifth of the US population can trace their roots back to Brooklyn. It was a great place to grow up in but now I'm living in a rural area, so I feel I've had the best of both worlds – city and country life.
2. Did you always know you wanted to be a writer or was there something else you wanted to do as a career?

I actually wanted to be an artist at first and would still love to develop that at some point – you're never too old, right? But soon after that – at the age of eight – I decided I wanted to be a writer.
I read and wrote every chance I got and never looked back.
3. What inspired you to write your first book?

Even as a kid, writing articles for local newspapers and magazines, I always knew someday I wanted to write a book. I just didn't know what topic it would be on.
And after almost 40 years of wanting to write a book, my first book actually came about by accident. I was trying to stop a housing development from being constructed in a historical and environmentally sensitive area and I started doing research to back up my claims and in doing so, I discovered amazing, interesting stuff about the area that even some of the locals weren't aware of. So my five years of notes ultimately became my first book.
The irony? I was able to initially stop the development, but then the developers sued the township and they cut a deal. We were able to save some of the acreage, so it wasn't a total loss. But the day that my book came out on the market – May 20, 2005 – was the same day that they broke ground for the development. So it was a bittersweet victory.


4. What is the first book that you remember reading?

The Dick and Jane (and Spot) basal reader designed to teach children reading and phonics that was used in US school systems from the 1930s through the 1970s.
5. What was the first thing you did after the debut of the first book you wrote?

I think I started jumping up and down in excitement when the book arrived in the mail and I held it in my hands for the first time, LOL. After all the work, it suddenly becomes "real" at that moment.
6. If you had the chance to have a sit down with any author alive or deceased who would it be and why?

Wow, this is tough. So many names spring to mind. I guess I'll go with Helen Keller, as she was the first person I read about as a child that I wanted to meet in person. I was completely captivated by her ability to overcome the circumstances of her life and rise above them and in turn, help others. I guess you could say she was an early heroine of mine.
7. What book are you reading now?

I am reading Fools, Liars, Cheaters and Other Bible Heroes by Barbara Hosbach. It talks about lesser known people in the Bible and how they are not that different from you or I, but they were still called and used by God. People like the man who was lame for 38 years and Jesus asked him if he wanted to be made well. We all think we want to grow and change, but the truth is that sometimes it's easier to stay in your comfort zone because change can be tough and painful. This book is very encouraging with stories of folks that we can all relate to.


8. What are your current projects?

I am currently working on my 5th book – Legendary Locals of the New Jersey Pine Barrens – to be published by Arcadia Publishing and due out next year. It will spotlight unsung heroes of the Pine Barrens – an amazing cultural, environmental and historical area of New Jersey that occupies nearly a quarter of the state.
And I'm still heavily promoting my 4th book – Healing in the Hurting Places – and the non-profit by the same name to help prevent, educate and offer resources for healing from childhood sexual abuse.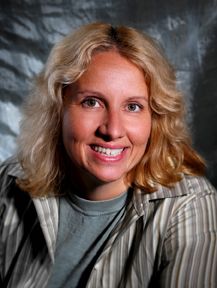 About The Author:
Karen F. Riley has been writing since she was eight years old. She was nationally published at the age of eleven. Since then, Karen has written for newspapers and magazines such as The Asbury Park Press, New Jersey Monthly and The Tri-Town News. She has authored three weekly newspaper columns and four books:

Whispers in the Pines: The Secrets of Colliers Mills (Published May 2005, Cloonfad Press)
Voices in the Pines: True Stories from the New Jersey Pine Barrens (Published May 2009, Plexus Publishing, Inc.)
Images of America: The Pine Barrens of New Jersey (Published October 2010, Arcadia Publishing, Inc.)
Healing in the Hurting Places (Published August 2011, Destiny Image, Inc.)
Voices in the Pines was a silver international IPPY award winner in 2010 and Healing in the Hurting Places was an Eric Hoffer Award 2012 finalist.
Karen has been married to Bill for 32 years and they are the proud parents of three children: Lisa, Laura and Christopher and one granddaughter, Lilyana. They reside in the rural town of New Egypt, New Jersey.
After 20 years in the corporate world, in seven different fields and having survived four layoffs, she started her own business. KFR Communications, LLC – a custom graphic and website design company she owns with her business partner, Andrew Gioulis – is now in its ninth year of operations. They specialize in branding and have recently started a self-publishing division to help authors publish and market their books.
For most of her life, Karen measured her success by what she achieved in her own strength. Then on July 24, 2005, that world and belief system was rocked when she accepted Jesus as her Lord and Savior.
Augustine said, "You have made us for yourself, O Lord, and our hearts are restless until they rest in you."
Karen began to understand why God blessed her with the gift of writing and speaking and how she could glorify Him with it. She began writing as a means to deal with the pain of childhood sexual abuse. Today, she heads up a ministry called Healing in the Hurting Places to offer hope to those suffering in the same way. This book is part of that journey.
Karen believes that through education, we can stem the tide on the rising epidemic of childhood sexual abuse. She is grateful that her book is touching so many lives and helping people realize that they are not alone and begin their own healing journeys.
In 2011, Karen was diagnosed with Stage 4 cancer and given a short time to live. She plans to make the most of whatever time God gives her to continue to be a ripple in the pond and make a difference in others' lives wherever she can. For too many years, she suffered alone in silence and now wants to help others to find their own voices.
Karen sees her childhood sexual abuse, bullying and cancer as blessings now. She takes heart in this Scripture: "You intended to harm me, but God intended it for good to accomplish what is now being done, the saving of many lives." (Gen. 50:20)
Karen is available for speaking engagements, book talks and signings.
Healing in the Hurting Places is available to purchase from Amazon & Barnes & Noble
Follow the tour by clicking banner below